What is Hip Replacement Surgery and how does it help you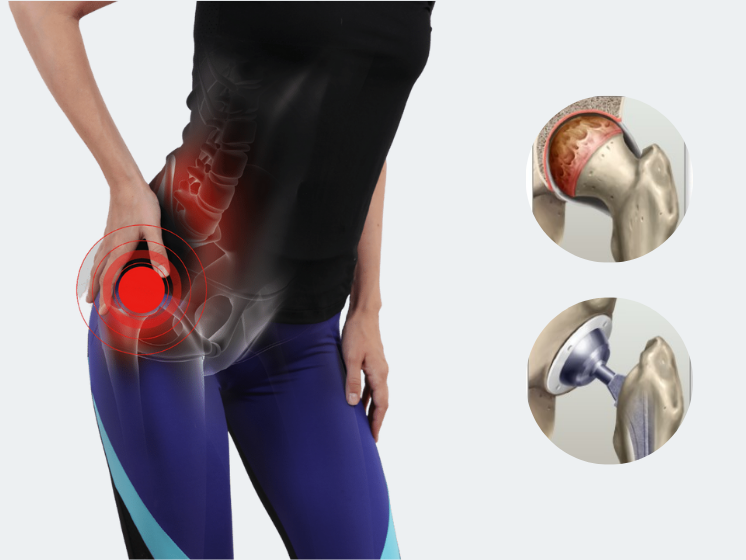 What is Hip Replacement Surgery?
If you have a damaged hip due to arthritis, fracture or pain while performing activities like walking, sitting, getting up, have difficulty in putting on shoes and socks, feeling uncomfortable while resting and if use of walking supports does not help you, you may consider hip replacement surgery.
Hip replacement surgery is very effective and is a procedure that can help you relieve your pain, help you in moving without any difficulty and get you back to your daily activities. It is a procedure in which the doctor surgically removes the hip joint and replaces it with a joint made with metal or plastic components. This surgery is only suggested when all other therapies have failed to relieve the pain.
Hip replacement surgery is among the foremost successful operations in all drugs.
Causes of Hip Pain
The most common cause of pain and disability in the hip is arthritis. Osteoarthritis, rheumatoid arthritis, and traumatic arthritis are the common forms;
This type of arthritis is age-related. It occurs in people above 50 years of age and often to patients with a family history of arthritis. Osteoarthritis can also be caused or accelerated by irregularities during the development of the hip in childhood.
This disease is autoimmune. Rheumatoid arthritis is "inflammatory arthritis."
This can cause a serious hip injury or fracture. The cartilage may become damaged and lead to hip pain and stiffness over time.
When there is a limited blood supply to the femoral head there are chances of osteonecrosis (also sometimes referred to as "avascular necrosis"). It can also be triggered by some of the diseases.
Even if the issues are treated in childhood; they are chances of arthritis in the future.
Symptoms of Hip Replacement
These are some of the reasons why your doctor will be suggesting you this surgery:-
When your hip pain limits your everyday activities, such as walking or bending.
When you have hip pain while resting, either day or night.
When you have stiffness in your hip which restricts your ability to move or lift the leg.
When you have insufficient pain relief from drugs, physical therapy, or walking supports.
Benefits of Hip Replacement Surgery
There are numerous benefits of hip replacement surgery. Some of which are:-
Relief from pain. One of the greatest benefit and major reason of this surgery
Better and improved motion
Better and increased strength
Improved coordination of the body and leg.
Regained ability of climbing stairs, walking and maintaining a healthy lifestyle with comfort.
How to get hip replacement treatment
Dr Suman Kumar Nag is an orthopaedic surgeon, being an expert hand in Orthopaedics and hence, the most recommended place to get hip replacement treatment.
Book your appointment from the best orthopaedic doctor in Raipur at Ligament Injury Clinic.